Rick Jones Pianos was originally founded in 1983 by Rick Jones as a piano tuning and repair company. Soon thereafter, Rick Jones began buying, restoring and selling used pianos. The tremendous satisfaction that came from piano restoration combined with the huge void in the market for good used pianos led Rick Jones and his company to its present warehouse home, which has become the country's largest selection of high-quality, like-new used pianos under one roof, each sold with a 10-year warranty.
Our staff includes:
Sofia Rodriguez
Sofia (a.k.a. Sophie) joined Rick Jones Pianos in 2015 as the the full-time Office Manager. Besides answering hundreds of phone calls each week, Sofia is responsible for bookkeeping, inventory management, coordinating deliveries with piano movers, and customer service. Sofia is also a yoga instructor, an avid yoga practitioner, music lover and excellent cook. Sofia was born and raised in Annecy, France and has been living in the US since 1994. She is fluent in English, French and Spanish.
---
Kathleen Brandner
Kathleen joined Rick Jones Pianos front office in 2002. Kathleen is Sofia's assistant the weekend Office Manager. She is especially skilled at data entry, preparing sales reports, coordinating deliveries with piano movers, and customer service, which includes answering the hundreds of phone calls we receive each week. Kathleen is a passionate and knowledgeable football fan, a rabid Baltimore Ravens fan, and is a native of Baltimore, Maryland.
---
Rick Jones
Rick majored in Piano Technology at the Shenandoah Conservatory of Music in Winchester, Virginia. After working in several rebuilding shops and retail stores, he founded Rick Jones Pianos in 1983. Rick is extremely active as a piano technician, and keeps his skills sharp by keeping our showroom inventory in tune, a huge task. When you visit Rick Jones Pianos, you will usually find Rick Jones working on a piano rather than sitting behind a desk. Rick is an accomplished pianist, tennis player, recreational cyclist and avid reader. Rick is a native of Springfield, Virginia.
---
Paul Yarish, RPT
Paul has been a piano technician since 1990. He joined Rick Jones Pianos in 1993 as a piano rebuilder.  After becoming a Registered Piano Technician (RPT) with The Piano Technicians Guild in 1994, he transitioned into in-home piano tuning and service, serving a large clientele in the Baltimore-Washington region as an independent piano technician and subcontractor for Rick Jones Pianos. Paul returned to Rick Jones Pianos in 2006 as a piano tuner/technician, Sales Manager and manager of the company website. He has been an amateur pianist since 1977. Paul's interests include cooking, Tai Chi, and classic Hollywood films. Paul is a native of Baltimore, Maryland.
---
David Long, RPT
Dave is the Senior Piano Technician at Rick Jones Pianos, having joined the company in 1986. He has been a piano technician since 1979 and a Registered Piano Technician (RPT) with The Piano Technicians Guild since 1995. Dave is responsible for all grand piano action work, with special emphasis on rebuilding the actions of our vintage Steinways. The fruits of his work are enjoyed by pianists and admired by fellow technicians equally. Dave is also an active in-home piano technician with a large clientele in the Washington metro area. Dave is a climate control systems Field Expert, having performed hundreds of in-home Dampp-Chaser Piano Lifesaver System installations. Dave is an avid golfer and an accomplished singer and guitarist who often performs with local bands. Dave is a native of New Carrolton, Maryland.
---
Melvin Reyes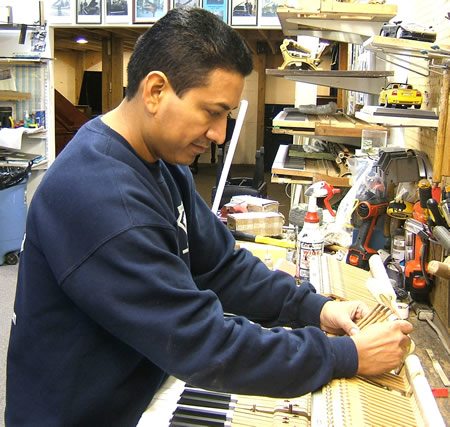 Mel began working at Rick Jones Pianos in 1991 as an apprentice. He began trained as a piano technician with Rick Jones and Dave Long, becoming a highly skilled piano technician. Mel is responsible for all upright piano work, as well as re-pinning, re-stringing and drilling pinblocks for our vintage Steinways grands. Mel is also a piano climate control systems Field Expert, having installed over 100 Dampp-Chaser Piano Lifesaver Systems. Mel is a native of Guatemala and is fluent in Spanish and English.
---
Edgar Delgado
Edgar joined Rick Jones Pianos in 1997. After training as a piano technician and QRS systems specialist, Edgar completed the necessary training to become a QRS Certified Technician in 2001. Since then, he has installed hundreds of QRS systems in our customers' pianos, each one a very labor-intensive and precision oriented task requiring 8 hours to complete. Edgar is also a climate control systems Field Expert and recently received an award for having installed more Dampp-Chaser Piano Lifesaver Systems than anyone in the country. Edgar is also responsible for most of the heavy grand piano rebuilding, including drilling and fitting new pinblocks, re-pinning and re-stringing grand pianos. Edgar is a native of Guatemala and is fluent in Spanish and English.
---
Sam Placanica
Sam joined Rick Jones Pianos as an apprentice piano technician in the summer of 2010 after his junior year of high school. He returned each summer for five years, further developing his skills with each year. After graduating from Montgomery Blair High School in 2011, Sam attended St. John's College in Annapolis, graduating in 2015. He began working full time at Rick Jones Pianos soon thereafter and is working towards achieving Registered Piano Technician status with the Piano Technicians Guild. Sam began studying piano in 2000, after which his parents purchased a 1977 Yamaha G2 from Rick Jones Pianos in 2002, which still serves as Sam's primary practice piano today. Sam is especially fond of the keyboard music of the Baroque and Classical eras, but has an insatiable curiosity for exploring new repertoire. Besides music, Sam's interests include literature, philosophy, baseball and cartography. Sam is a native of Silver Spring, Maryland.
---
Please check out the website of our friend Deanna Bogart, a multi-talented blues performer and piano teacher to Rick Jones.
If you are in the greater DC area and are looking for private music lessons, string instruments, percussion instruments, or band instruments for rental or purchase, please check out our friends at Middle C Music.